This site introduces what Noh and Kyogen, the traditional Japanese performing arts.
What is Nohgaku?
Noh and Kyogen are representative Japanese performing arts that have been passed down from generation to generation without interruption for more than 650 years since the Muromachi period. They are collectively called "Nohgaku".
In the old days, Nohgaku was loved by many warlords such as Hideyoshi Toyotomi and Ieyasu Tokugawa. Today, it is desginated as the Intangible Cultural Heritage by UNESCO, and is also highly appreciated overseas. It is said that it has influenced various performing arts.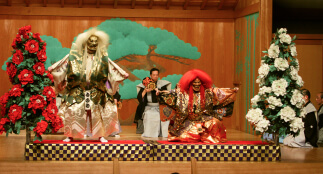 Noh

Noh is a musical and dance drama performed to the accompaniment of Utai (songs and lines) and Hayashi (musical instrument), and is characterized by performers wearing masks called Noh masks in many pieces.
The characters are not only human, but also non-earthly things such as gods, ogres, monsters and ghosts.
The performers express their emotions with simple, stylized movements.
Kyogen

Kyogen is a comedy that mainly describes the daily life of ordinary people in the middle ages. Unlike Noh, most of the plays are performed without masks, and the universal humor of human beings is depicted through laughter.
Learn about Nohgaku
This site provides a variety of materials related to Nohgaku. We also provide information on trial lessons for elementary, junior high and high school students.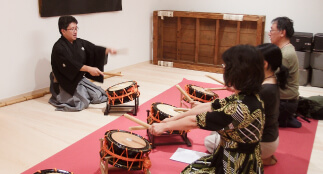 Go and see a Performance
You can enjoy watching Noh and Kyogen even today.
Manners are almost the same as other performing arts.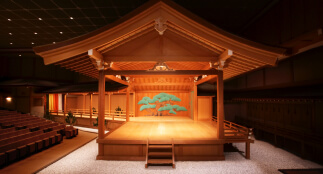 How to buy a ticket

There are many internet sites where you can buy tickets online. However, some websites may not be purchased from overseas.
How to choose a seat

Noh theatre is basically divided into 3 types of seats.The front stage seat is not always the best, and the impression of the play differs from seat to seat. Please look for your favorite position.

front stage seat (Shomen): facing the front of the stage.

side stage seat (Wakishomen): located at the side of the stage, along the "Hashigakari" bridge.

middle stage seat (Nakashomen): located between the front and the side stage seats, with a view of the entire stage.
Let's find a Nohgaku Performance.
Nohgaku is performed throughout Japan at Noh theatres , art theatre halls, and on outdoor Noh stages such as precincts of temples and shrines and parks. Enjoy the different tastes and atmospheres of each venue. Look for a performance nearby! (This site is only available in Japanese.)
Learn Nohgaku
You can learn Nohgaku directly from professional Noh actors. "Utai" "Shimai" "Hayashi (musical instrument)" and "Kyogen" are taught.